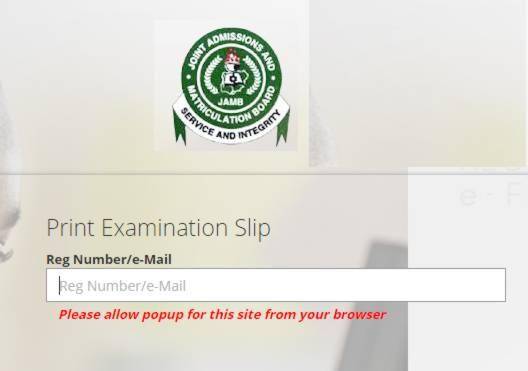 The Joint Admissions and Matriculation Board (JAMB) conducted its 2023 Mock-UTME on Thursday, 30th March 2023, in 725 centres nationwide but the exercise ran into some technical hitches in some centres thereby denying some candidates the opportunity to sit the examination.
According to the board, candidates will have their slips placed on their profiles. However, candidates who are unable to access their slips through their portal can visit the board's service portal, on jamb.gov.ng to print the slip.
Candidates are expected to print two coloured copies of their examination slips and be at their examination venues at least an hour before the scheduled time to allow them to go through biometric verification before their admittance into the examination hall. One slip should be submitted to the exam centre and the other for reference purposes.
Candidates Eligible for 2023 UTME Mock Rescheduled Examination
Only candidates who were affected by technical hitches at some centres will have the opportunity to retake the examination.
The 2023 Rescheduled UTME Mock is slated to hold Tuesday, 18th April 2023for candidates affected by technical challenges as a result of their centres. Applicants are also enjoined to be at their centres one hour before the examination for biometric verification.
Candidates need not visit any CBT centres for the printing of the Mock notification slip as it can be done at any available internet point, be it private or public.
How to Reprint your UTME Mock Exam Slip via JAMB Portal
1. Proceed to the official JAMB Portal via this link: https://efacility.jamb.gov.ng/printmockexaminationslip
2. Once the page has loaded, type in your JAMB Registration Number or E-Mail used to register for the exam on the specified column.
3. Select "Print Examination Slip", your exam slip will pop up on the screen.
4. If you have your computer connected to a printer, then proceed to print your exam slip.
5. If you do not, you can either save it in a flash drive and print it in a business centre or proceed to a cyber cafe and do everything there.
The Board also reiterated that the scheduled commencement time for the examination is sacrosanct. In addition, the Board restated its zero tolerance for examination malpractice.In the same vein, candidates are advised against going into the examination halls with prohibited items such as wristwatches, calculators, flash drives, phones, among others. They are also warned to desist from the application of "laale" to do fancied drawings and paintings on their hands to avoid unnecessary interference with the whorls of their fingers which could impede biometric verification.